Since the initial publication of these video interviews this past week, there has been overwhelmingly positive feedback from fans for producer Chad Villella and directors Matt Bettinelli-Olpin & Tyler Gillett. Their passion, respect, and humanity about the franchise has resonated with fans and inspired confidence about the potential of the new film scheduled for release on January 14th of 2022.
Could it be a coincidence that I made a trilogy of videos based on my recent conversation with Radio Silence? Probably not.
Welcome to the final act! In this third and final video, the creative team behind the new SCREAM film discussed the distinguishing aspects of the novel Ghost Face project: the human experience of making a movie shaped by the franchise legacy, returning cast members, and the world event of COVID-19 pandemic.
The Trio
Creating the latest SCREAM is something that its cast and crew will never forget. For Radio Silence, working with  "The Trio," the glue that holds our favorite franchise together, was essential to the project. 
"They are really like the beating heart of the franchise, and so, to have the three of them just so generously offering themselves to the movie…", Tyler said, referring to Neve Campbell, David Arquette and Courteney Cox. "They created that sense of family", he said referring to the positive vibe that has been consistently reported by those who worked on film last year.
Gillett revealed that "The Trio" even helped on developing the status quo of Sid, Dewey and Gale:
"There's no better compass for who those characters are, than those three actors. Even as fans, with a deep love and appreciation for those movies, the process that the three of them go to bring these characters to life is really theirs and, so, it was really fun to watch them do their thing. To watch these characters come to life". 
When asked if they had a Plan B in case of one of them didn't sign on, Matt had an adamant answer:
"It's not SCREAM if they are not there." 
These statements essentially confirm the importance of the legacy characters in the fifth entry. But that doesn't mean that Woodsboro cannot be expanded and connected with the future, as Chad adds:
"They're all incredible. Then, watching the way the new cast members just would be looking to the legacy cast members for guidance and for appreciation of what they've done, what they've built… We're very thankful."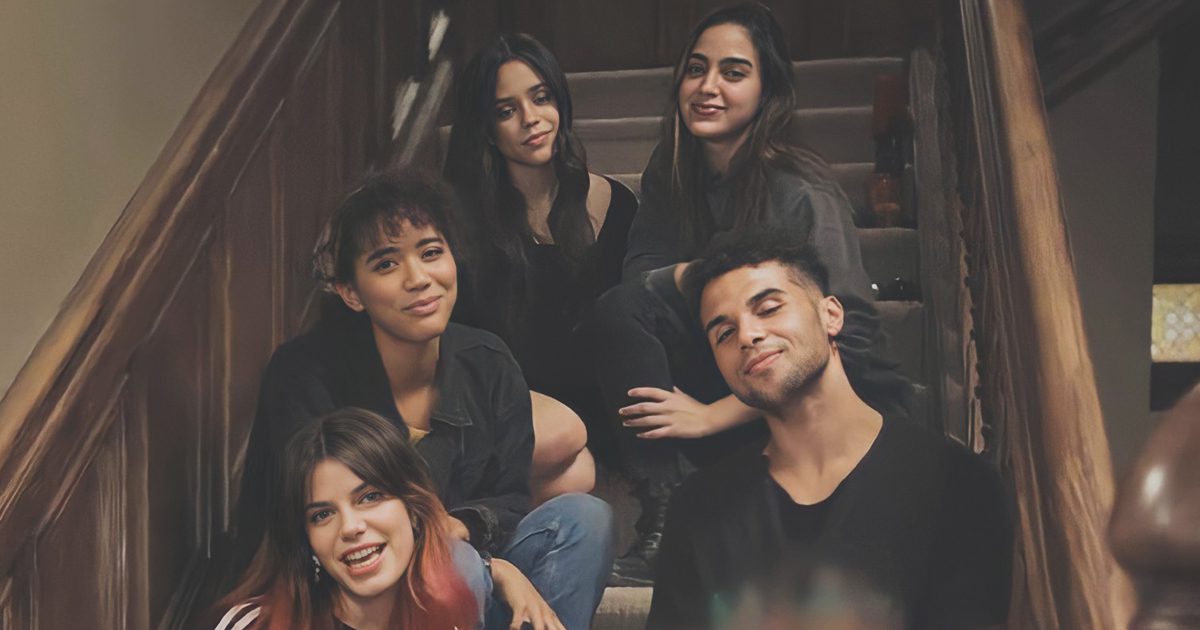 Well-developed characters are mandatory, so expect to fall in love to later be torn apart when some of them are sliced and diced:
"The characters on the page were so well written. Guy [Busick] and Jamie [Vanderbilt] are just incredible and had designed the world of the story in such a beautiful way, everyone felt different and they also all felt like real people. In this heightened situation", Tyler explained.
Ghost Face attacks
Also returning, obviously, is another Woodsboro icon.
"Not even a little hyperbole, every single scene with Ghost Face it felt like there was a celebrity in the room", remembers Bettinelli-Olpin. 
"I'll never forget I was just walking into the costume room the very first time and then Emily Gunshor, our costume designer obviously did a great job: did her homework, did her research, when we were doing the robe and securing the mask. So we were walking into the room and like to the corner, from the slip of the door you were able to see Ghost Face, and I thought it was on a mannequin. And when we walked into the door it was actually one of the stunt performers and  he jumped out and scared the living shit outta of me. This was terrifying",  Villella testifies.
The pandemic
SCREAM 5 was one of the first films to begin production after the industry temporarily halted filming for most projects at the beginning of the pandemic. The health concerns and potential danger were an enormous variables added to an already intricate and stressful project, as Tyler explains:
"It was so anxiety producing it. There is a lot on us: the scale of the opportunity we had, to go and make this movie. Everyday, Matt and I were driving into the set and I was like 'Oh shit, we made it through another day. Is this the day where it's all gonna fall apart? Is this the day where they're gonna pull the plug?' The protocols there were in place. I mean, if there was a positive test, the movie shuts down for a good amount of time. That's disastrous: it's expensive, it's people's schedules on the line… I mean, a movie when something is up and running and into production it's like a very fine-tuned machine to get to the finish line."

But even though SCREAM was produced during those crazy times, the pandemic did not became a part of the storyline:

"It won't feel like a Covid movie",  tells Chad. 
"And then I looked  the other way around: We're all in this together. So these things I saw as a problem are actually 'Who gives a shit. We're in this together. Let's be a family!' It was such a unique experience because of that and not entirely negative", remembers Matt. 
We, the SCREAM fans, are grateful to Radio Silence for giving us another ride through Woodsboro. It was an honor to perform this interview, so thank you for the sensational experience. 
Radio Silence Exclusive Interview
PART I: A conversation about Wes Craven, scary movies, and SCREAM (1996). [Read]
PART II:  A talk about SCREAM (2022), aka SCREAM 5. [Read]
PART III: A discussion about the cast (alumni and new) and filming during the pandemic. [Read]
Want to connect with another SCREAM fans? Follow us on the social network you like the most!
For Twitter, follow and tag us at @hello_sidney!
On Facebook we are at this url!
And on Instagram, you will find us under @hellosidneycom!
Always tag this site on your stories and posts, we always want to know, appreciate and share your photos, art and opinions with other fans!