Like Gale Weathers, we are NEVER for this. Even though we were expecting the characters poster, nothing could prepare us for the stunning legacy cast posters of SCREAM to drop like that. Collider had the honor of featuring this beautifully posed and colorized images of Neve Campbell, David Arquette and Courteney Cox – all holding Ghost Face masks.
As the marketing campaign gets hotter – and it will boil over in the next weeks, believe me – little infos are dropping and increasing the excitement. For instance, Chad Villella told us exclusively, back in August that SCREAM was rated R, but now we know why: "Strong bloody violence, language throughout and some sexual references".
We also learnt that Neve Campbell and Courteney Cox started doing press for the movie on November 30th. Watch a video of Courteney Cox getting ready here and Neve Campbell photographed by her cousin, makeup artist Coleen Campbell-Olwell. She seems to be nothing like Jill Roberts.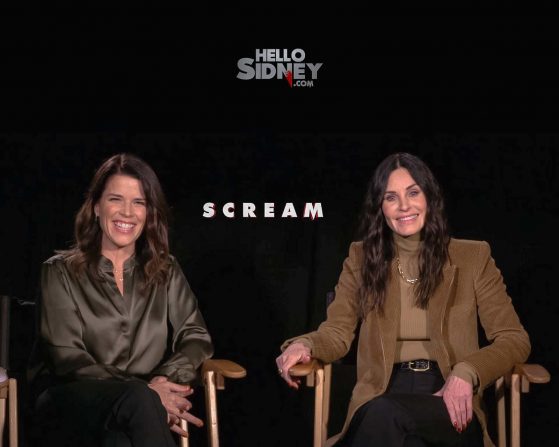 In closing: get ready! Tomorrow (4), the brazilian version of Comic Con, CCXP Worlds, will feature a Paramount Panel and the presences of Neve Campbell and Courteney Cox are confirmed. Their panel begins at 3:05 PT.
Be sure to stay tuned on our social media channels so you can get first hand updates!
For Twitter, follow and tag us at @hello_sidney!
On Facebook we are at this url!
And on Instagram, you will find us under @hellosidneycom!
Always tag this site on your stories and posts, we always want to know, appreciate and share your photos, art and opinions with other fans!