Just after finishing the original SCREAM trilogy in the early 2000s, Wes Craven, Kevin Williamson, and Dimension Films reunited to revitalize the monster movie subgenre just like they have done with the slasher in the 90s. Planned for 2003, the original CURSED starred Christina Ricci, Jesse Eisenberg, Skeet Ulrich, Mandy Moore, James Brolin, Omar Epps, Scott Foley, Robert Forster, Corey Feldman, Illeana Douglas, and Heather Langenkamp.
Sadly, this promising attempt of repeating the SCREAM effect became a notable example of production hell. The studio harshly intervened, demanding reshoots, changes in the plot, and different cuts, resulting in a completely different movie.
Several tidbits from what is now known as CURSED: THE CRAVEN CUT circulated the internet over the years. You can find some bts videos, the prop busts sculpted by Rick Baker, and the OG shooting script.
But today, you can add to that some exclusive hi-res still images from the version that never was, and give the #ReleaseTheCravenCut one more shout out in your favorite social network.
A new collector's edition is arriving on April 26th – it's not the version we are referring to in this article, but it is an extended unrated one. Click the image below and get yours!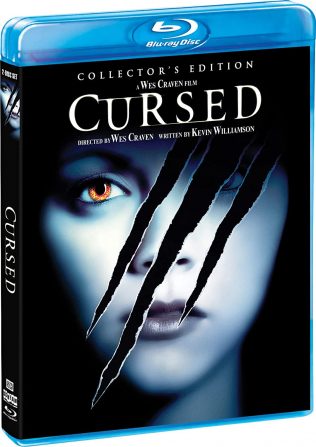 Images from CURSED Copyright © Paramount Pictures and Miramax. All Rights Reserved.